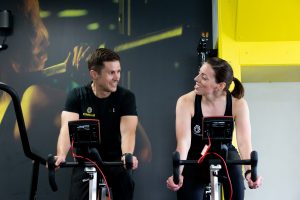 As personal trainers we wear many hats and are not just here to train you in our gym.  We will educate you on training and nutrition and focus on getting you into the right habits that will enable you to make progress.  At Gym Gair we are passionate about making you fitter and healthier and believe that this will help you improve your quality of life in return.
It does not matter where your starting point is, getting in touch with us will be a big step in itself for some of you.  We are here to guide you towards a fitter and healthier lifestyle.  Invest in us and we will help you every step of the way, just ask our current clients.
Our services include both online and face to face training.  Russell is a qualified nutritionist and we have many healthy recipes that we can share with you.  Our group work is fun and accessible, and we cater for all ages and abilities.  ZE Run is another huge part of the Gym Gair team, and we are proud of the success these individuals have achieved since the first training session in 2015.
We built our private gym in Scalloway in 2016 to provide a professional environment for our clients to train in.  The gym equipment includes 2 squat racks, 2 Watt Bikes, an array of free weights and a state of the art Speedfit treadmill.  We are constantly re-investing in the gym, also making use of outdoor space as well (if the sun is shining, we will be getting a tan!).
With Linda joining full-time in 2019 we have really gone from strength-to-strength.  Recently she has achieved a Diploma in Swedish Massage through the Scottish Massage Schools, and this is a service we will be offering from a treatment room upstairs in the gym.
The gym also became the home of our InBody Composition Scanner, which is an incredible tool that really helps us tailor our plans and training to meet each of our members' needs. We have been overwhelmed by the support and response to our progress in Shetland and we are immensely proud of what we have created and the people we have worked with.
If you cannot find the information you are looking for on our website, please feel free to get in touch with us at gymgair@outlook.com