We are extremely grateful for the many testimonials written by our successful clients, some amazing transformations and inspirational stories. We were delighted to help Peter Fenwick achieve his dream of qualifying for the 2015 Kona World Championships in Hawaii. The following year Russell supported Davie Williamson in fine tuning his nutrition to assist him to 2nd in his age group in the UK Ironman. This allowed him to qualify for Hawaii, an incredible achievement for an U25 athlete so new to the sport.
We have detailed a few stories below for you to have a read over, we also have some video testimonials, please give these a watch too:
Jane & James:
We are celebrating our 5th anniversary of working with Jane & James.  They have been fantastic to coach and are always keen to try new exercises and approach every session with energy & enthusiasm.  They have achieved so much in the past 5 years, have a watch of their story so far:
---
Peter Fenwick is an Ironman World Championship Qualifier, 7x Ironman finisher, GB age group representative and a 3x Scottish Middle-distance podium finisher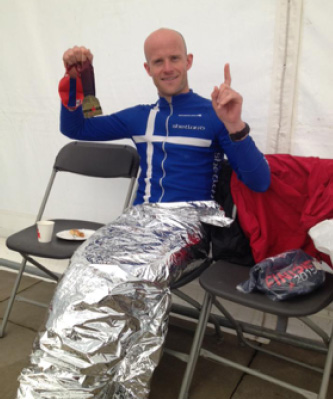 "I have known Russell for eight years and have followed and been impressed by his development as a coach and personal trainer. He has taken his time to undertake all the relevant courses although he also has the experience from his own sporting achievements to back it up.
During the winter of 2014/15 he helped me develop my first strength and conditioning programme and looked at my running training and helped me re-align my running zones as to maximize my performance. Both these inputs were a big change to my training methods, but it was no coincidence that I had my best season to date. I would fully endorse him as an exercise professional and whatever your goals, I am confident he will help you achieve them!"
---
John and Wilma Goodlad have been clients for a while now and they use the 1-2-1 and buddy session options
"We've been training with Russell for almost a year now and love it. Although we have always been reasonably active, gyms had not been for us and we were a bit apprehensive with the range of machines, which seemed out with our scope. However, we wanted to improve our general health and that is exactly what we have found has been the result. Russell has trained us individually and together. His commitment, knowledge and enthusiasm encourage us with new challenges, and we enjoy the progress we are making. Our physical and mental health feels the better of these training sessions – we look forward to an hour of specific workout in such bright, comfortable and energising surroundings and have utmost confidence in Russell."
---
James Nicolson trains with us as part of a small group, here is his story so far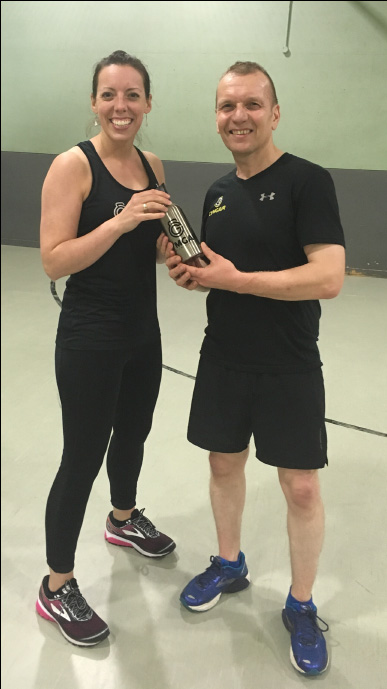 "I have been a client at Gym Gair since November 2016. It was our daughter Ria who suggested that we should contact Russell and see if he was willing to train me, my partner Jane and herself as a group. We exchanged emails, did some weighing and body measuring and met up at his Gym at the end of November 2016. "My initial goal was to lose some weight and become a little fitter. As a 47-year-old reasonably active man, but not tall. my weight had increased to 78kg, placing me in the overweight category. I made the decision after that first visit to their Gym to make a complete lifestyle change. I knew with the supportive environment of the three of us training together coupled with Russell's experiences expertise and planning, the goals set would be achievable. We began a 10-week individual tailored training programme at the gym along with circuit training once a week, also with Gym Gair.
The first sessions were challenging and tough but the support and encouragement from Russell was incredible. Weekly measurements with the "Tracker" system was invaluable. Visible signs that waist size and weight was decreasing along with improved muscle growth. By April 2017 my weight had dropped by 7kg with a massive increase in fitness level. This is when I joined the ZE Run group and this has taken my fitness to another level. By July, I had reached my target weight, losing over 10kg. My waist had reduced by over 150mm!
This was never a diet or a short-term fix though. This was a lifestyle change and a total change of thinking in creating good habits. None of which would have possible for me without the support of Gym Gair. The increase in my physical AND mental state is incredible. Thank you, Russell!"
---
Caroline Polson 1-2-1 client
Caroline Polson trains with us on a 1-2-1 basis. We have had the privilege of working with her for over 2 years now. She makes the weekly trips from Whalsay to Scalloway in all weathers, and always has a smile on her face (thankfully before and after the gym session!) Here is her story of us working together, and she continues to make progress all the time:
"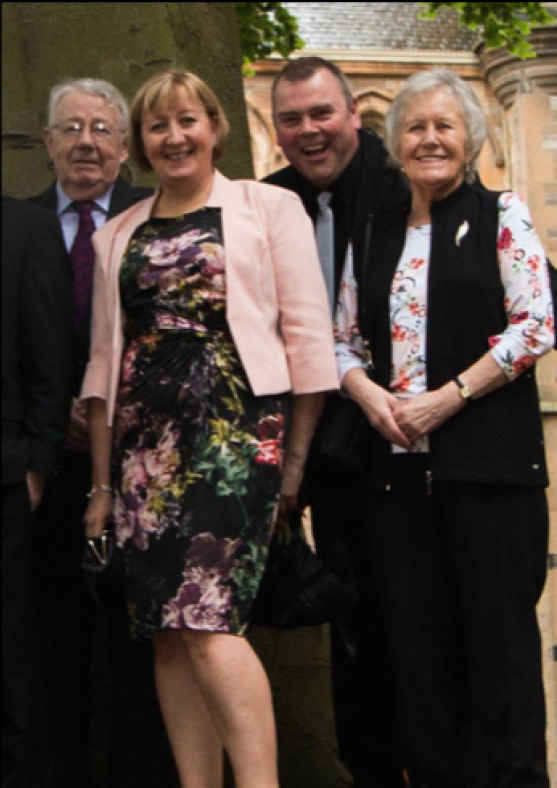 A couple of years ago I told my daughter that I would lose some weight for her graduation which was this June 2017. I was overweight and unfit and hated dressing up for any occasions. I soon came to realise that I was going to need some help and inspiration to achieve this weight-loss, as I didn't have the willpower to do it on my own. I was too selfconscious to go to classes along with other people because I thought that everyone there would be better than me. I also had no self-control on the eating front and was a bit of a sweet tooth! I noticed Gym Gair on Facebook and thought that personal training could possibly be the answer to my problem in the timescale that I had. I contacted him to arrange this then started attending weekly sessions at their gym from November 2016.
Slowly but surely my fitness levels started increasing and my weight started to come down! Russell was very understanding and at no point did he ever make me feel bad if I hadn't lost weight (or had gained a bit!). He always had different methods of encouraging me ahead and explaining ways for me to manage both my nutrition and exercise. We agreed small targets during the forthcoming months so as to make things feel manageable, then set a target weight nearer to the date of the graduation. Well I reached the target weight we had set and was so amazed at myself! It boosted my confidence that I had actually achieved my goal! I feel much the better of carrying less weight and being fitter. Dressing up is much more appealing now! I love telling folk this story because I had no confidence that I could achieve this and now want to show others that, however little self-esteem & motivation you have, YOU TOO CAN DO IT!"
---
Sandra Summers, 1-2-1 and part of small group training
Sandra Summers began training with us 1-2-1 and is now part of a group set up. It has been an honour to help Sandra make significant progress. I cannot stress enough how well she is doing, and all of us at Gym Gair know that there is still much more to come. We do not like to think of these photos as "before & after" as she is continuing with improvements each and every week: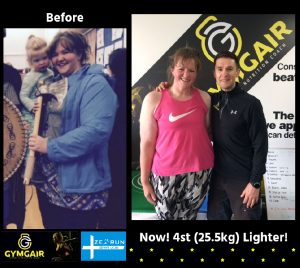 "Having been overweight from a young age, I am never sure what started my bad habits, but over the last 10 years I have tried a few times to make significant changes but with limited success. During both pregnancies I developed gestational diabetes and my body was struggling to cope. I was warned that I would be more likely to develop type 2 diabetes in the future if I didn't make changes to my lifestyle. In May 2017I signed up with Russell and also joined his circuit class once a week. To begin with I struggled with sore knees, making burpees and mountain climbers near impossible. Russell tailored my program to build on my knee muscles and now I can manage them a lot easier. By the end of the summer I had lost around 10kg/1.5 stone and started to feel more energised and in control. Over the next few months I let things slip with other commitments, so when I weighed about the same at Christmas I decided to step things up a gear and started the couch to 5k.
This helped keep me motivated exercising most days and the weight started to drop off again. When I hit certain milestones like losing the weight of my little boy (10kg) or the weight of my little girl (18kg) the reality hit home when I would lift them to carry them somewhere and feel my back ache. Now that I have hit my first big goal of 25.5kg or 4 stone loss, their combined weight, I realise that I would actually struggle to carry both of them together, but never thought much about it when it was stacked on my bones. It feels good to know that I'm the lightest I have been in 20 years and plan to continue in the right direction. I joined the ZE Running group in March. I feared that I would not manage to run the sessions, but I am so glad I joined as I have found so much support and encouragement from the other members, along with Russell and Linda. It does not matter I am the slowest in the group, every week I can see small improvements as I chip away at my PB's or increase my distance. It makes me realise how much I enjoy exercising and now I prioritise time to fit in a quick run or going to Russell's gym session. Food has always been my weakness, but this year I have focused on eating better. I do not always count calories but when I do, I see a much better result. We have used Gym Gair recipes and found the selection appeals to the whole family. We plan our evening meals in advance sowe have things bought in and every opportunity I can I cook ahead. I often make things ready in the morning to be reheated later, which has helped greatly having young children to look after. I still have treats and have an off week but as you approach a milestone it helps drive you forward. Russell has been a huge help, I'm not just saying this as he is my brother, but he has kept me motivated by setting targets and speeds for my running, which I never think I will achieve, and I often tell him 'where to go'! He listens when I have a moan or if I am stressed by other factors and sending the tracker once a week makes it hard to cheat. His encouragement and belief that I can sustain change is a great mental boost."
---
Joanne Stewart, Fit in Fifty Challenger & Online Client
I started with Gym Gair last August when I firstly signed up to a Fit in Fifty challenge, then continued to use their online service thereafter, and it has certainly made a huge impact on my life. My energy levels are through the roof and I never thought I would see the day I was up at 6:00am exercising! Linda & Russell encouraged me to use MyFitnessPal, which has helped me keep on track with my nutrition and monitor my exercise. On looking back over old photos, I realised that I have made significant progress, mainly seeing the
difference in my waist.
When the COVID-19 lockdown kicked in and all the leisure centre had to close I was really fed up that I would not be able to get to my regular classes. The weather was also really poor so getting out for runs and walks was also an issue. Gym Gair really saved the day when they began to do their online workouts though! They are brilliant and just as much of a workout as you would get in their gym thanks to their innovative use of a towels and rucksacks to replace various exercise equipment from the gym!
As well as the live workouts they continue to offer fantastic support via the recipes and the weekly check in, and they reply so quickly to any questions I have for them, so I am still very much accountable for everything I am doing despite being in lockdown and circumstances being so different! Keep up the fantastic work you pair!!
---
Pauline Irvine, Fit in Fifty Challenger & Online Client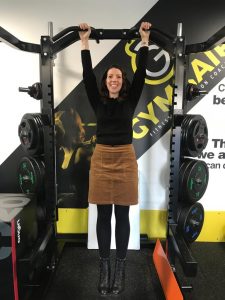 I completed the Fit in Fifty (days not age) program with Gym Gair and cannot recommend it enough. I have lost over half stone which I am delighted about and feeling a lot stronger, cheerier and energised, which is the biggest bonus to me. I will be signing up again in the New Year to kickstart 2020. A big thank you to Linda and Russell!
---
Emma Nicolson, Fit in Fifty Challenger & Online Client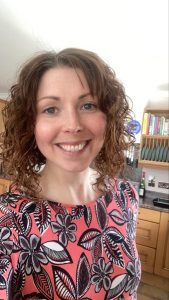 Last year after 9 long months of no exercise as a result of a bad back and hip, I signed up for the Gym Gair Fit in Fifty online program at the start of 2020. I needed help with easing back into exercise and I was in great need of better eating habits. Well I am delighted that I did sign up. Everything was done online. I could fit exercise into my busy daily life without needing lots of equipment. The recipes were delicious, and I could eat well by making better choices. As a result, I am fitter, stronger and have lost 7lbs. I am so chuffed at how they gave me all the tools to improve myself! Gym Gair are a brilliant supportive team who really know what they are doing.
---
Joe Nicolson, Online Group Training Client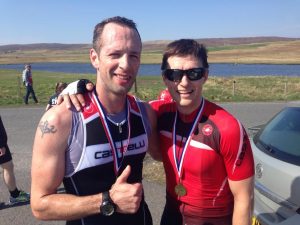 What can you say about the service at Gym Gair?… they've adapted to deliver what we need now when we need it more than ever. They're invested in your success and they do it better than anyone else!
The big things: They give you value for money. They can provide teams for you to be part of to keep you motivated. The workouts and nutritional advice get results.
The peerie things: They follow up with encouragement and tailor their packages to suit your needs. Russell and Linda are always focused on their customers. But my favourite part, and the reason I go back time and again is, they know exactly what they're doing!
---
Pauline Johnston, Fit in Fifty Challenger & Online Client
I joined Fit in Fifty in November 2019 and have stuck with Gym Gair ever since. Everyone is different, but the accountability of weekly check ins is what keep me on track. Linda and Russell have been very supportive…. I have woken up in a cold sweat hearing Linda shouting 'keep going only 10 seconds left'! Their continued support through this difficult period has been second to none. They answer any questions you have and keep you motivated with new workouts to try. I would recommend them if you want to get fit and stay fit.
---
Irene Williams, Circuit Classes Client
I signed up to Gym Gair circuit training over 1 & 1/2 years ago after the passing of my dog and I found I wasn't out exercising enough. The circuit classes are suitable for all abilities, even for me who is now over 50. Personally, the classes have given me confidence and drive, and I look forward to going and have met such lovely people along the way. Russell & Linda are always cheerful and keeping us going, even when sometimes we are not feeling our best. I have never had any regrets signing up, we exercise with smiles and it is always a positive experience. Still to master a proper press-up though!
---
Eleanor Robertson, 1-2-1 Client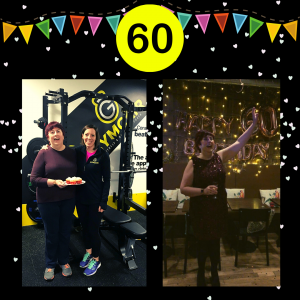 I have been working along with Russell Gair at Gym Gair for nearly three years now and I can safely say they have provided an excellent service. I have complex medical needs and after a scare, I knew exercising would be of benefit to me, but found going to a normal gym or gym class too daunting and scary. My family bought me my first session with Russell, and the support he has given me since then has been unbelievable. While attending one to one sessions, I have managed to lose weight, increase my fitness levels and have fun at the same time. I had lost my confidence due to my complex medical conditions and I was struggling to find some way to get fit. I felt too scared to go along to the gym at the Clickimin in case something happened to me.
Attending the 1-2-1 sessions has been great, my confidence has grown and I feel more in control of my own body. Russell has been very supportive from the outset and aimed to provide the correct programme of exercise tailored appropriately for me. Russell carried out a lot research about my medical needs to make sure the programme he designed was set at a Level that I could safely work at. My fitness levels fluctuate with my illness and Russell is constantly monitoring to ensure I do not overdo the sessions I attend yet at the same time encouraging me to try to stretch myself within safe limits.
I went to Islay to work two years ago and during my stay Russell offered to continue my sessions while I was away from home. I was the guinea pig for the first WhatsApp sessions held long distance and it worked really well. It allowed me to keep on with my training while I was away and this was invaluable, as it prevented me from losing fitness.
Linda and Russell provide an ideal service they are friendly, approachable and very knowledgeable with what they offer. If they are not familiar with a person's medical needs, they will carry out the necessary research to ensure the session they provide will meet your needs in as safe a way as possible. I have no problem with passing on my recommendation to others to try this service as I know you will be pleased with the results.