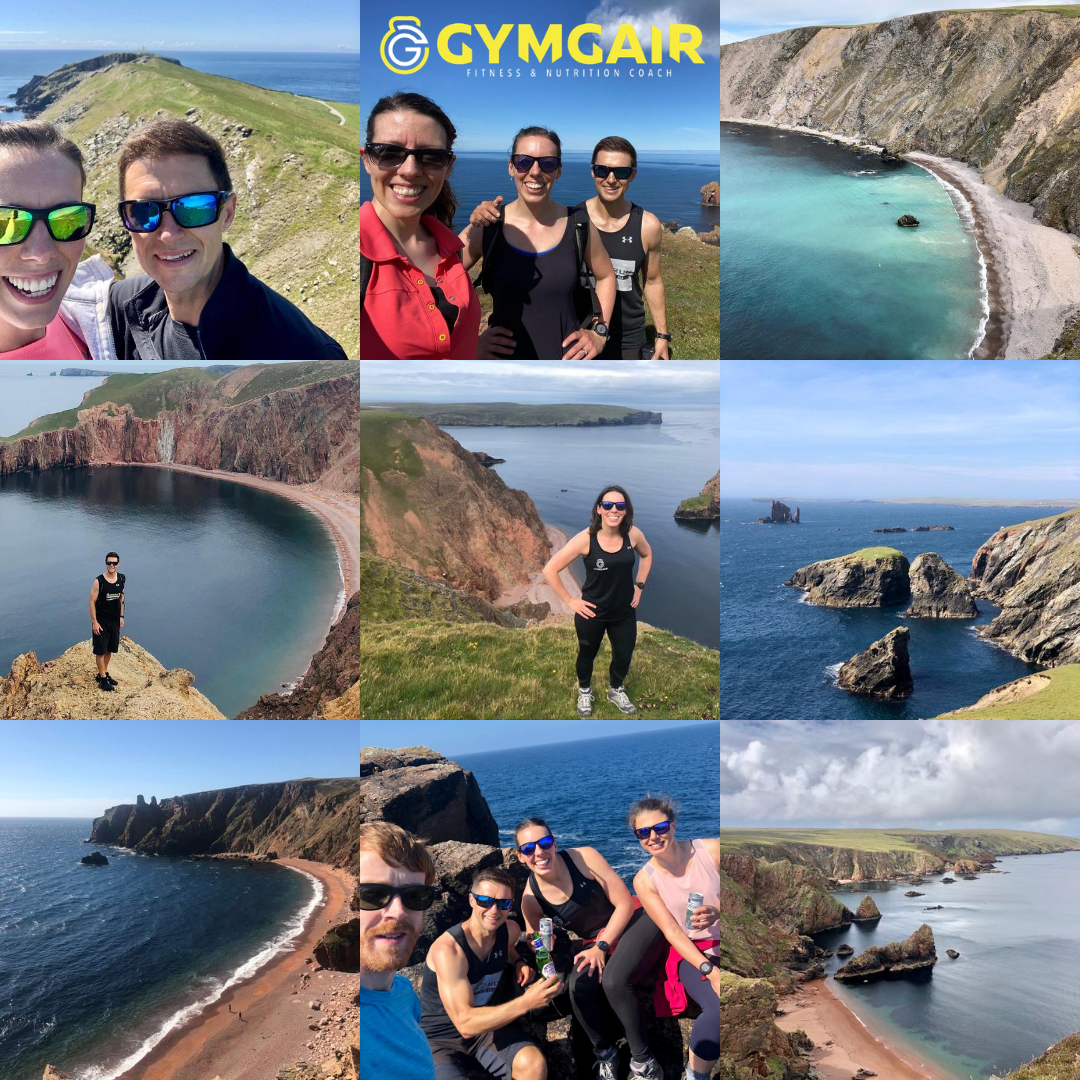 Week 1:  We were delighted to get out for our first drive this week since lockdown and take in the sights at Sumburgh Head and St Ninian's Isle.  We were treated to a good show of puffins and amazing scenery around the cliffs and beaches.  We spent a bit of time watching the planes taking off and landing… hopefully it will not be too long until we can enjoy a flight somewhere!
Week 2:  We have had a mixed week of weather here in Shetland, but we have certainly made the most of the fine days.  We took a trip out to the west side to see the coastline from the Dale of Waas out to Deepdale.  An absolutely stunning walk on a beautiful day.  We had a lucky escape from Shetland's birds of prey, the bonxie, who did not like the look of us and was eyeing us up for lunch!  A couple of wild swoops from him got the fast twitch fibres ticking and we took a few hill sprints to get away!
Our Fit in Fifty clients have made a great start to the challenge and many of them have also taken to the hills for hikes to increase their step counts.  We are delivering them a live workout each week, with a different focus each time.  This week was focusing on strength work, and the group has really enjoyed that aspect of training.  Keep up the good work team!
Week 3:  It has been a busy week here at Gym Gair HQ.  We have had a good week of weather and have managed to get a few outdoor sessions done on our new astro turf area.  English gyms have now re-opened so fingers crossed we will follow suit soon!
We have enjoyed a couple more hill walks, firstly to the Hams o Roe with Pauline, we took the scenic route along the coast & back via the path.  We then refuelled at Da Haaf Restaurant for our first meal out since lockdown, we were met with our usual friendly welcome and it was delicious as always!  Then on Friday we hiked up Ronas Hill, Shetland's highest point, and down to the Lang Ayre.  Both walks are really beautiful and well worth the 7+ miles hikes for each.
This week our Fit in Fifty team got another live nutritional seminar, where we focused on tracking, mindful eating and creating good habits.  They also got a live HIIT workout at the weekend along with our online circuit clients.  The online circuits continue to be very popular and our next block is on sale now for August via our website, click here to buy your space!  The classes are a lot of fun and it is great to see everyone's fitness levels improving week by week.
Week 4:  This week we had our first holiday since January, and made the most of what is on our doorstep!  We headed north with our friends Maree & George, to Busta House Hotel and were treated like royalty for our 2 night stay!  They have really adapted to life with COVID-19 and the staff were absolutely fantastic and made our stay very relaxing and enjoyable.
We got lovely weather, and managed to do 3 hikes over the weekend.  Friday was the Hillswick Ness Circular and a look at the cliffs of Zoar.  On Saturday we enjoyed the scenery of Eshaness & da Grind o da Navir.   Then on Sunday we finished off the weekend with a hike from Tingon to Heylor and enjoyed superb scampi & chips from Frankies fish & chip shop.
We spent both nights in the long room at Busta and Linda & Maree had their first lesson in the card game 500, which then turned competitive very quickly!!  We would like to thank the staff at Busta for making our staycation a weekend to remember.
Our August circuits are now on sale as well, we are loving delivering these sessions and have a great community of clients who are making great progress!  Click HERE to join our community!