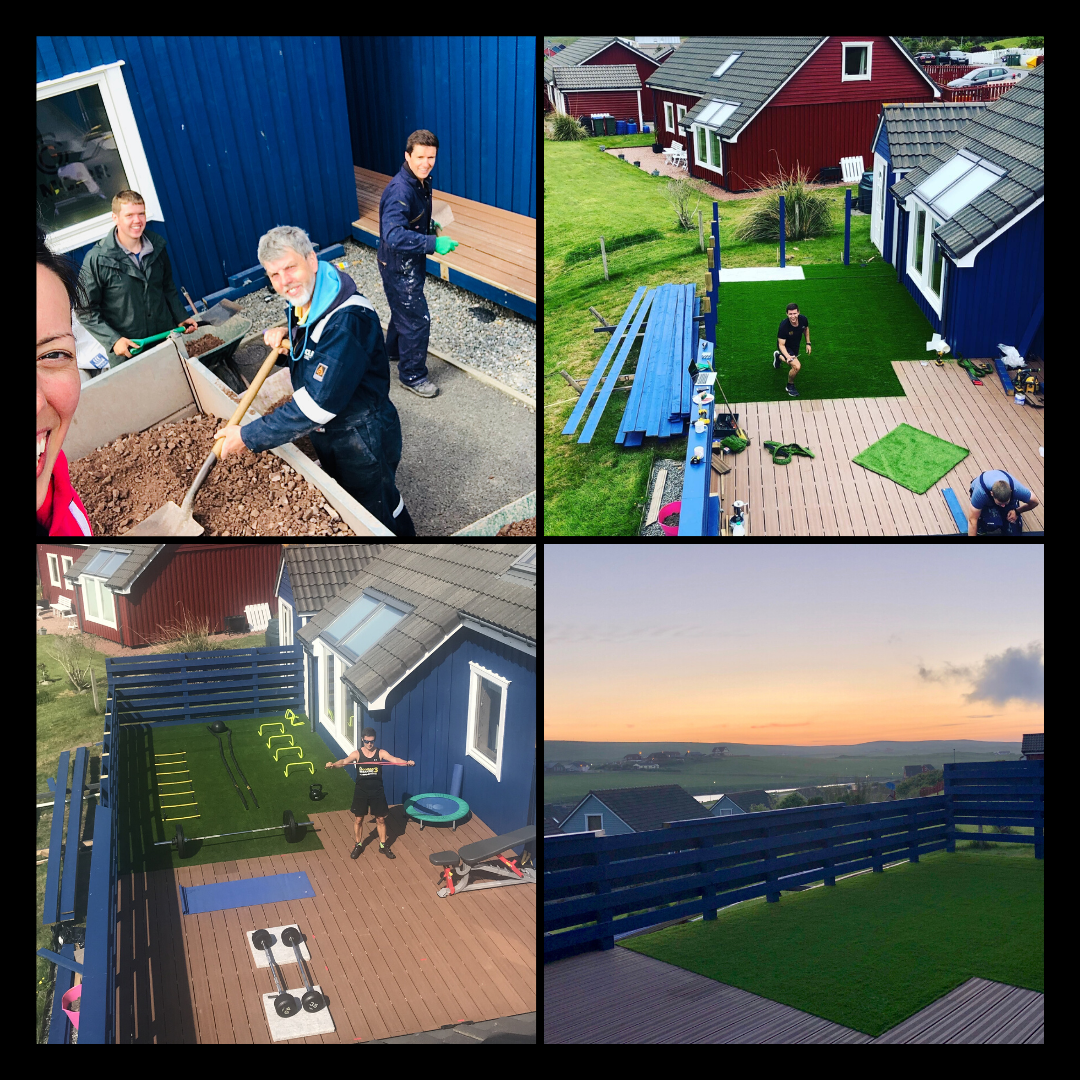 Week 1:  It has been a rather busy week here at Gym Gair as we have started our new outdoor training area project!  With help from Joe Hunter, we planned to extend our current decking with a piece of astro turf, and this will enable us to train our clients outdoors (weather permitting!).  We feel, in this current situation, that this will help us improve our services and speed up the transition back to the gym.  The weather this week has been favourable, and we have got a really good start to the project.  We recruited Joe's dad, George, to help us shovel, what we thought would be 5 tonnes of chips, but as the day went on, we were probably nearing 10 tonnes!  I think we all got a rather good workout!!  Rain has stopped play for now, but we hope to get going again when it improves.  Stay tuned for a further update.  Head to our Facebook or Instagram page to see more pictures.
This week our ZE Run Q&A focused on Strength & Conditioning and Masters running, they sent us a good range of questions to get the group talking.  We have also set them a Summer 5k Series to do safely on their own, and they will have to submit their times to us before the end of the month.  Last month saw some super speedy times, keep up the good work team!
Week 2: Project outdoor training area is well under way!  We have spent a lot of hours this week painting, digging, shovelling and laying the astro turf.  Thank you to Lyall and Joe for working over the weekend to help us get to where we are at.  The area is looking fantastic, and we just need to attach some fixtures and fittings, then we should be good to go!
Ben Mullay has featured us on his blog this weekend as well, so head over to his website to read this.  He provided us with fantastic photos for our website, and we were delighted with the images.  Ben has continued to train with us during lockdown via Zoom as part of group training, we have had great fun delivering these sessions and he has made great progress!
Week 3:  Our outdoor area is now ready and hopefully we can soon welcome clients back for some outdoor PT.  We have done a trial run and it was a success, we can separate the area into three 2m pods, and add equipment to each pod for sole use during the session.  We are delighted with how well the project has gone and we hope now for some nice sunny, summer weather… please!!
We have also launched an advert for a Summer Fit in 50 Challenge, which will start on July 1st.  We are excited to be able to deliver this service again as we have had great results in the past with improvements for many in fitness, nutrition and lifestyle.  Check out our testimonials to see how Fit in 50 has changed some of our clients attitudes towards nutrition and fitness, and how it has been of benefit to them.  Click HERE for more information or click HERE to buy your space.
Week 4: With our sold out Fit in 50 challenge due to start, it has been a busy week for us doing programmes, videos, recipes and new content for all our new clients.  Fit in 50 is a fantastic way to get back into exercise or increase your fitness levels.  We guide you along the 50 days with workouts, advice on nutrition and exercise and how to make new and sustainable habits.  We have also introduced a live weekly workout for them, which will be great to bring them all together virtually.  This is an important part of the training, as with us being in lockdown, a group environment is something we are all longing for. We have had great results in the past and looking forward to seeing some more with our next group.  Good luck team!
We also have our popular Live Circuit classes for July on sale, we have been delighted with the response they have had and we have a great group of people from all over the globe taking part!  If you wish to join us, click HERE to by your space.
Our ZE Runners were treated to a live Q&A from Mike James, the Endurance Physio.  Mike is a really interesting and educated guy, who will be undertaking the Marathon Des Sables next year, which is a gruelling multi-stage adventure and we wish him all the best for his training over the winter.  We gave him a raft of questions on running, strength & endurance, injuries and rehabilitation.   The group really enjoyed the talk and we would like to thank him for joining us and hope he can come to visit soon!