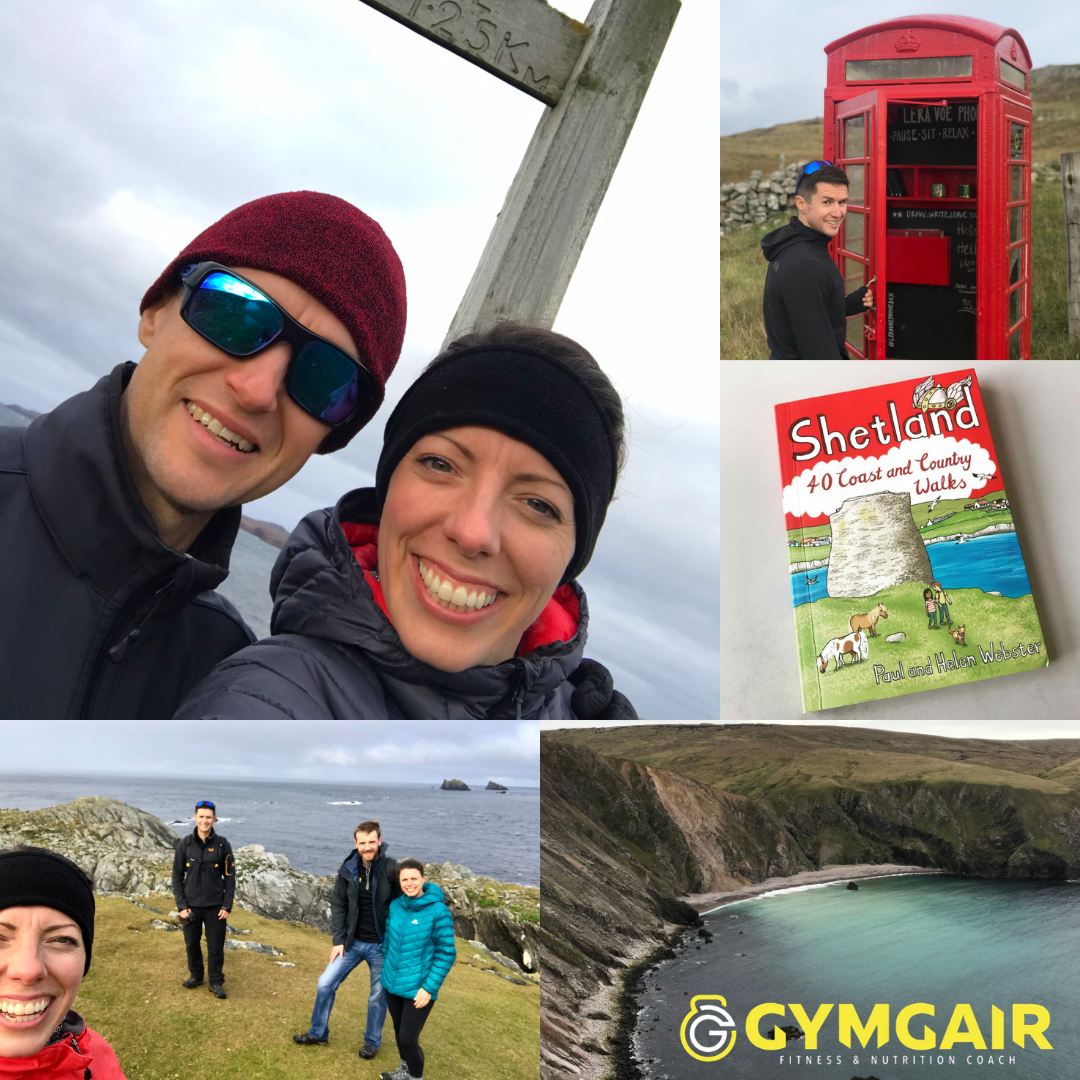 Week 1:  October already, how has that happened!  This funny year has flown past in a strange way, and we are now heading into the winter months.  We have been making a bit of time for ourselves to focus on our strength training this week and we are really enjoying challenging each other.  The main focus this week has been deadlifting and we have both hit new numbers and set ourselves some goals for the winter.
We have enjoyed a few walks around Sandwick, Lerwick and Scalloway this week, trying to keep our step count high too.  ZE Run had our last road session before heading back to the track next week, we are really looking forward to that!
Our October circuits have kicked off and we are delighted to be able to provide this service.  It is a very popular class and everyone is making really good progress with the exercises.  Get in touch if this is something you would like to get involved with, it's not too late to be added to the group!  The sessions remain in the Facebook group so you can catch up when you can or visit an old favourite as many times as you like.
Week 2:  Following the success of the Summer Fit in 50, we have advertised for a Winter Fit in 50 Challenge.  This will kick off at the end of this month taking us up to the middle of December, the perfect way to get Christmas ready!!  We have been busy creating new content and gathering some new ideas this week, and really look forward to the challenge getting started on the 28th.  We have introduced a couples/buddy discount as well if you want to keep motivated with a friend or spouse.  To book your space, click HERE.
We have spent the weekend back in the Waddle at Walls again.  We seized the opportunity of a cancellation and took Friday off to recharge our batteries.  Firstly we headed north to meet Maree & George for a hike out to and around Fethaland.  We caught the best of the weather and were treated to some blue skies!  It is a good 7 mile hike and at this time of year as you can walk out along the road, keeping your feet relatively dry!  We waved goodbye to Maree & George and headed out west.  On Saturday, it was rather windy so we headed to Sandness and did the hike up to Deepdale from Huxter.  It was a flatter route, until you get to the Bay of Deepdale, where you take quite a hike up hill!  On Sunday, we eased out our legs around Waas and took a Sunday run out to West Burrafirth.
Week 3:  It has been a rather mixed bag of weather this week, cold, rainy, windy or sunny, it just couldn't make up it's mind!  We got back to work on Monday afternoon & have been really busy all week creating content, delivering our circuit classes and working out in the gym.  The Fit in 50 challenge is selling really well and we expect this to sell out.   Quite a few people are taking advantage of the buddy discount, it's always nice to have an accountability buddy as well as checking in with us too.
This week we received our new Eleiko open bar, which has caused much excitement in the gym!  The clients (and the coaches) are really enjoying a bit of deadlifting this week, it is a great piece of kit and fits in nicely with our gym.
Week 4:  It has been a busy week for us getting ready for the start of our sold out Fit in 50 challenge.  We kicked off the challenge on Wednesday night with a live seminar for the group and gave them their first workout on Friday to get them off on the right foot.  We are really looking forward to helping everyone towards their goals over the next 50 days!
We delivered our live HIIT session on Saturday morning to mark the end of the October circuit block, which was a lot of fun.  Our next block for November is now on sale via our online shop. It is a great community and a fun way to exercise.  We go live on Monday nights at 6pm for a 40 minute workout.  We have a library of 30 workouts now on the page, so plenty to choose from and keep you active through the week.  If you wish to get involved, click HERE to buy your space.
Our first storm of the winter arrived, Storm Aiden, and it made Halloween a wild one!  We were treated to severe gales & lashings of rain.  We eventually got out for a walk around Scalloway on Sunday afternoon to stretch out the legs, it was great to see so many people out and about.